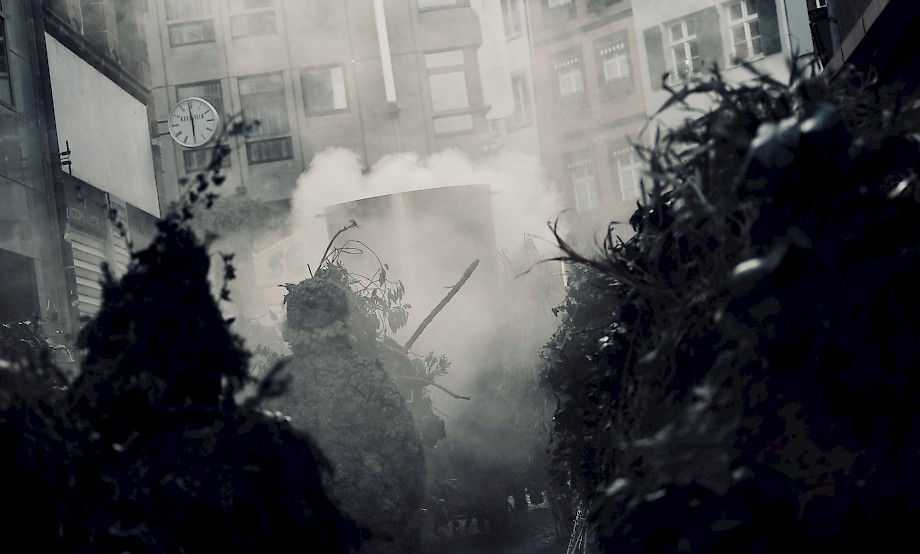 CV ––>
2015– freelance curator
2015– Neu Deli / Deli Projects (founder)
2013– Social Muscle Club Basel (founder)
2016– Draisine Derby (founder)
2016– Stadt.Geschichte.Basel (foundation council)
2012– Independent writer (different media, art and theatre)
2014-15: Museum of Broken Relationships (HMB Basel, curator)
2012-13: Hanro Collection Liestal (Museum.BL, collection curator)
2011-15: Sportmuseum Schweiz Münchenstein (exhibit. curator)
2004-11: various schools (teaching)
–-> Education
2016– : Art history studies, Universität Basel
2013-14: Acad. cert. Curator, Uni der Künste Berlin, prof. Friederike Hauffe, Eugen Blume et al.
2013-14: Art history, Freie Universität and Humbold Universität Berlin
2011-13: Cultural criticism, review blogging @ festivals for performative arts in Basel, Berlin and Zurich
2010-12: Teaching diploma grammar schools, PH FHNW, focus: mediation of image and film sources
2003-10: Uni Basel: M.Sc. History & Sports, focus: African Studies, exhibitions in Windhoek & Basel
–-> Exhibitions (2015–2018)
WATER YUMP (DRAINED VERSION) of the SWIMMING ENSEMBLE BY THOMAS GEIGER (cooperation with Museum Tinguely) at Büro Basel (project space by the Galleries Waldburger Wouters Brussels & ShanghART Shanghai), cur. Benedikt Wyss, with Nino Baumgartner, Nicolas Chardon, Sergio Rojas Chaves, Mathilde Denize, Florian Graf, Klara Hobza, Thomas Jeppe, Rafaela Lopez, Ana Navas, Bianca Pedrina, Johannes Willi, Billy X. Curmano. Waldburger Wouters & ShanghART Basel, 14–29 July​​
WATER YUMP – A SWIMMING ENSEMBLE IN THE RHINE BY THOMAS GEIGER guest at Museum Tinguely, cur. by Benedikt Wyss, w/ floating works by Nino Baumgartner, Nicolas Chardon, Sergio Rojas Chaves, Mathilde Denize, Florian Graf, Klara Hobza, Thomas Jeppe, Rafaela Lopez, Ana Navas, Bianca Pedrina, Johannes Willi, Billy X. Curmano. Museum Tinguely/Rhine Basel, 9–14 July
68–88–18. FREIRAUM IN BASEL. FILME UND VIDEOS video exhibition, cur. Benedikt Wyss, Dominique Rudin, Claudio Miozzari, w/ works by Domenico Billari, Mona Stefan Dähler, Mick Dellers, Kurt Fahrner, Eric Hattan, Fränzi Madörin, Muda Mathis, Invernomuto, Reinhard Manz, Werner von Mutzenbecher, Ulrike Rosenbach, Anna Winteler, Sus Zwick a.o. Webergasse 34, Basel, 7 Apr–27 May 2018
JOHANNES WILLI: AYAHUASCA LA VISTA (FIELD EXPERIMENTS II/I LIKE THE UNIVERSE II) performance and exhibition, cur. by Claudio Vogt and Benedikt Wyss, w/ David Escobar Parra and Camilo Pachón, 18 Feb–3 Mar 2018, Kunsthalle Basel, Basler Fasnacht and Bikini Basel
GREGOR BRÄNDLI: EVERYBODY KNOWS performance and screening, by Gregor Brändli, cur. Benedikt Wyss, moderation: Edgar Eckert, w/ Raphaela Grolimund, Cyril Hübscher, Victor Mooser, Lea Rüegg, Jonas Stadelmann and Yanik Soland, 4–18 Nov 2017, Bikini Basel
OTTMAR FARRE AND JOHANNES WILLI: I LIKE THE UNIVERSE, cur. by Benedikt Wyss, Crispr Bogotá (Colombia), 1–8 September 2017
THOMAS JEPPE: UMWELT MODE, cur. by Thomas Jeppe and Benedikt Wyss w/ Mavra  (Berlin), The Community (Paris), TG (Nottingham) and Unsere Umwelt (Basel), w/ Lane Cormick, Adriano Costa, Brendan Fowler, Jacqueline Fraser, Ruby Jeppe, Thomas Jeppe, Hanne Jurmu, Stuart McKenzie, Dana Munro, Joanne Robertson, Aamu Salo, Thompson Street Studio (Susan Cianciolo, Kiva Motnyk), Jan Vorisek, pcnc_bay (Manuel Scheiwiller, Simon Speiser), Die Römischen Votzen, Alex Vivian; Clarastrasse 13 Basel, 13–18 June 2017
FIELD EXPERIMENTS – BASLER FASNACHT, group show, cur. by Benedikt Wyss, w/ Olaf Breuning, Katja Brunner, Martin Chramosta, Irenka Kalicka, Marko Mikael Marila, Camilo Pachón, Sybren Renema, Maija Annikki Savolainen, Stella, Jean Tinguely, Jessica Wolfelsperger; Markthalle Basel, 7–21 April 2017
CHRISTOPH FÜLLEMANN WITH MICHEL MASSMÜNSTER: IM TAUMEL DER NACHT, cur. by Deli Projects  (P. Karrer, B. Wyss) and Trikot Basel (Claudio Vogt), w/ Christopher Füllemann and Michel Massmünster, w/ works by Beni Bischoff, Nathan Gray, Austin Lee, Alexandra Meyer, Sybren Renema, Philippe Schwalb, Francisco Sierra, Johannes Willi, Pedro Wirz/Thomas Jeppe; Trikot Basel (Museumsnacht Basel), 13 Jan–5 Feb 2017
HAUS#99 [LAST DAYS], group show, demolition residency, cur. by Benedikt Wyss and Demian Wohler, w/ Arturo Hernández Alcázar, Katja Brunner, Thomas Jeppe, Carole Louis, Once We Were Islands, Marina Pinsky, Sybren Renema, Juliana Irene Smith, The New Agency, Pedro Wirz; Neuweilerstrasse 199 Basel, 30 May–19 June 2016
CORYDON COWENSAGE AND AUSTIN LEE: CREEPER, cur. by Deli Projects (J. Baumat, P. Karrer, B. Wyss), w/ performances by Reto Pulver, Constance Tenvik, Sadaf H. Nava, Sarah E. Reid, Sybren Renema, Tomek Kolczynski, Zied Hadhri, Nathan Gray, Clare Wohlnick, Jürg Halter; Café Hammer Basel 13–19 June 2016
EXCUSE ME, WHERE IS THE ATM MACHINE?, poem collection, cur. by Deli Projects (J. Baumat, P. Karrer, B. Wyss), w/ Erica Baum, Olaf Breuning, Chase Chivers, Andrew Durbin, Kenneth Goldsmith, Langdon Graves, Alyssa Lingerfelt, Ari Marcopoulos, Rafaël Rozendaal, Matthew Speedy, Constance Tenvik, Nick van Woert; for the exhibition SPACE, Schwarzwaldallee Basel, 22 January 2017
VILLA INCOGNITO, group show, cur. by Deli Projects (J. Baumat, P. Karrer, B. Wyss), w/ Unnur Andrea Einarsdóttir, Bastien Hippocrate, Boris Nikitin, Maya Rochat; at SUMME, biennale of Basel's project spaces, Villa Renata Basel, 14 November–6 Dezember 2015
MUSEUM OF BROKEN RELATIONSHIPS, cur. by Olinka Vištica, Dražen Grubišić w/ Benedikt Wyss and B oris Nikitin; Museum für Wohnkultur Basel, 17 April–30 August 2015
SIMON DEPIERRAZ: CHERRY GO ROUND, cur. by Deli Projects (J. Baumat, P. Karrer, B. Wyss), w/ Anne-James Chaton, Simon Deppierraz, James Legeres, Jozef van Wissem, ZaZaZoZo (Melanie Bonajo, Joseph Mazolla); Ecke Güterstrasse–Laufenstrasse, 15–20 June 2015
ENCHANTED ROCK, cur. by Benedikt Wyss, w/ Maija Annikki Savolainen and Ingrid Magnusson, Markthalle Basel, May 2015
–-> Performances/Events (selection)
EVERYBODY KNOWS by Gregor Brändli, cur. Benedikt Wyss, moderation: Edgar Eckert, w/ Raphaela Grolimund, Cyril Hübscher, Victor Mooser, Lea Rüegg, Jonas Stadelmann and Yanik Soland, 11. Nov 2017, Bikini Basel
DRAISINE DERBY/DRAISINE DERBY I + II by Benedikt Wyss and Thilo Mangold at art Festival Oslo Night, September 2016 + 2017
SECRET SANTA, performance dinner by Deli Projects and Depot Basel; Depot Basel, 1 December 2016
SOCIAL MUSCLE CLUB: 9 clubs in Basel at Kunsthalle Basel, Kaserne Basel, Grand Hotel Les Trois Rois, Markthalle Basel, Elisabethenkirche, Refugee Club Da-Sein and Fitness Club Swiss Training, May 2015–August 2017
SOCIAL MUSCLE CLUB CAPETOWN, Scalabrini Refugee Center, 23 Nov 2016
SOCIAL MUSCLE CLUB JOHANNESBURG Troyeville Hotel, 26 Nov 2016
SOCIAL MUSCLE CLUB ZAGREB, Museum of Broken Relationships, 15 May 2016
performing in SWAP by Roman Ondak, 13–22 June 2014
–-> Grants (selection)
CHRISTOPH MERIAN STIFTUNG: Grand Café Basel 2018, Water Yump 2018, Johannes Willi: Ayahuasca la vista 2018, 68–88–18 2018, Feldexperimente Basler Fasnacht 2017, Im Taumel der Nacht 2017, Umwelt Mode 2017, Umwelt Mode Video 2017, SMC 2016/17, Draisine Derby 2017/18, Creeper 2016, Haus#99 2016, Museum of Broken Relationships 2015
DR. GEORG UND JOSI GUGGENHEIM STIFTUNG: Villa Incognito 2015
ERNST GÖHNER STIFTUNG: 68–88–18 2017, SMC 2014/15/16/17, Copa>Demo>Video>Stream 2014
ERNST UND OLGA GUBLER-HABLÜTZEL STIFTUNG: Grand Café Basel 2018, Water Yump 2018, Johannes Willi: Ayahuasca la vista 2018, Im Taumel der Nacht 2017
FACHAUSSCHUSS TANZ + THEATER ABTEILUNG KULTUR BS/BL: SMC 2014/15
GGG BASEL: Water Yump 2018, Copa>Demo>Video>Stream 2014, First Love Expo 2013
KULTURPAUSCHALE ABTEILUNG KULTUR BS: Im Taumel der Nacht 2017, Umwelt Mode 2017, Haus#99 2016
LUCIUS UND ANNEMARIE BURCKHARDT STIFTUNG: 68–88–18 2017
OERTLI FOUNDATION: Villa Incognito 2015
PRO HELVETIA: Johannes Willi: Ayahuasca la vista 2018, SMC South Africa 2016
SCHEIDEGGR-THOMMEN-STIFTUNG: 68–88–18 2017
STIFTUNG EDITH MARYON: Haus#99 2016, SMC 2014/15
STIFTUNG WOLF: 68–88–18 2017, Draisinenrennen 2016
SULGER-STIFTUNG: 68–88–18 2017
SWISSLOS-FONDS BL: 68–88–18 2017, Draisinenrennen 2016
SWISSLOS-FONDS BS: Water Yump 2018, 68–88–18 2017, SMC 2016/17, Draisinenrennen 2016, Copa>Demo>Video>Stream 2014
–-> Participations/Collaborations (selection)
ART BASEL PARCOURS: Creeper, Jun 2016, cur. night at Parcours Bar
ALMA MARTHA CAPE TOWN: Social Muscle Club, Nov 2016
BASLER DOKUMENTARTAGE – IT'S THE REAL THING: Feldexperimente, Apr 2017
CHANGE OF HEART FESTIVAL ZAGREB: Social Muscle Club, Nov 2016
CULTURE SCAPES ISLAND: Villa Incognito, Nov 2015
DEGELO ARCHITEKTEN, Haus#99, May/Jun 2016
HOUSE OF ELECTRONIC ARTS BASEL (HeK): Exhibition Future Love, Speed-Dating, Mar 2018
KUNSTHALLE BASEL: Johannes Willi: Ayahuasca la vista Jan/Feb 2018, Social Muscle Club, Nov 2016
MONDRIAAN FONDS NETHERLANDS: Shortlist for Orientation Trip 2017
MUSEUM OF BROKEN RELATIONSHIPS, ZAGREB: Social Muscle Club, Nov 2016
MUSEUMS ASSOCIATION OF NAMIBIA: Int. School on exhibition making w/ Uni Basel and Uni of Namibia, Nov 2017
MUSEUMSNACHT BASEL: Im Taumel der Nacht, Jan 2017
MUSEUM TINGUELY: Water Yump, Jul 2018
OSLO NIGHT: Draisine Derby 1, Sep 2016; Draisine Derby 2, Sep 2017
SCHAUSPIELHAUS ZÜRICH: Social Muscle Club, Oct 2018
STEIRISCHER HERBST GRAZ: Social Muscle Club, Oct 2017
THEATER FREIBURG: Social Muscle Club Dietenbach-Festspiele, Jul 2017
THEATERTREFFEN BERLIN: Social Muscle Club, May 2017
WILDWUCHS FESTIVAL BASEL: Social Muscle Club, Jun 2015
–-> Special mention
Samuel Leuenberger, Director & Curator SALTS, for basel.com, Nov 2016
–-> Publications
2018: Water Yump – A swimming ensemble in the Rhine, exhibition booklet, ed. w/ Thomas Geiger, design Astrid Seme, Studio, Eigenverlag, Wien 2018
2018: Freiraum in Basel seit 1968, Hrsg. mit D. Rudin und C. Miozzari, Christoph Merian Verlag, Basel 2018
2018: Bildredaktion für Loser/Mangold/Miozzari/Rockenbach (Hg.): Der FC Basel und seine Stadt. Eine Kulturgeschichte, Christoph Merian Verlag, Basel 2018
2017: Feldexperiment Basler Fasnacht, Ausstellungskatalog limitiert, Hrsg., Eigenverlag, Basel 2017
2015: Interview mit Austin Lee und Kati Gegenheimer im Kunstmagazin «Spheres Publication», Nr. 4, Basel, September 2015
2015: Beitrag «Paros 2015» im Kunsmagazin «Lobotom» Nr. 3, Berlin, Juni 2015
2012–: Basler Zeitung (11-14), TagesWoche (seit 14), Unruhe im Oberrang (Berliner Theaterblog, 13/14)
For Sportmuseum Schweiz:
2016: Mannsweiber und Kindfrauen. Einsichten in die Kulturgeschichte des Kunstturnens in der Schweiz, Eigenverlag, Sportmuseum, Bern 2016
2014: Volley Culture. Weltkultur des Volleyballspiels. Ausstellungskatalog Sportmuseum Schweiz, Basel 2014
2014: Im richtigen Moment, Leichtathletik im Sucher des Fotografen Walter Scheiwiller. Publikation des Sportmuseums, Redaktion, Basel 2014
2013: Kunstschuss – Von Bergen und Tälern: Die Bilder des eidgenössischen Fotografen Walter Scheiwiller. Bildredaktion, 11 Freunde (04/2013), Berlin
2012: Olympics Through Media. An exhibition on the relationship of the Olympic Games and media. Ausstellungskatalog, Katar 2012
2011: Das private Stadion. In: B. Degen, P. Maeder (Hg.), Breite-Lehenmatt. Historischer Rundgang durch ein junges Basler Quartier, Basel 2011, S. 80-84.
Studies:
2009: The Swiss Solid. Movem. & its Use of Posters. In: Miescher/Rizzo/Silvester, Posters In Action. Visuality in the Making of an Afr. Nation, BS 2009, S. 61-74.
2007: African History goes Public: Reflections on a Swiss-Namibian Exhibition Project. In: Roth/Schubert/Poli (Hg.), Werkschau Afrikastudien 6, Münster 2007.
Photo (Dominik Asche): Yypfyffe by Johannes Willi in Kunsthalle Basel, February 2018