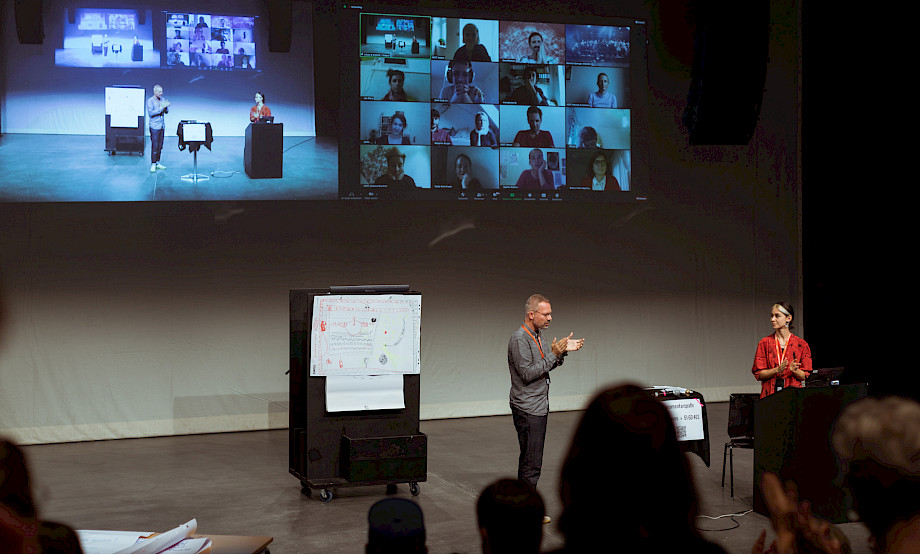 Conferences
/// The website is under construction and not up to date. 
Kokon Hybrid conferences on co-creation in the arts and cultural sector
by Björn Müller, Ramona Sprenger, Benedikt Wyss, and Alexander Keil
Edition 1 with Festspiele Zürich
Edition 2 with Migros Kulturprozent m2act
How do we work together? How do we want to work together?
In these days in particular: How can we re-organise our meetings in a hybrid way, reacting flexibly to the respective (health) requirements with fluid offline and online solutions? What does it mean to co-create? What can and what must change? The world today is full of all kinds of co-creatives and innovation hubs beyond the art milieu. The digital and analog conferences of KOKON question the idea and the applicability of co-creation to the art business and beyond. How must creation processes and structures for co-creation change – and vice versa? What does co-creation mean for institutions in relation to their artists and the public? Does the idea of co-creation change our view of the work? How can funding structures support co-creative work? etc.
Photo: Nicolas Gysin/KOKON