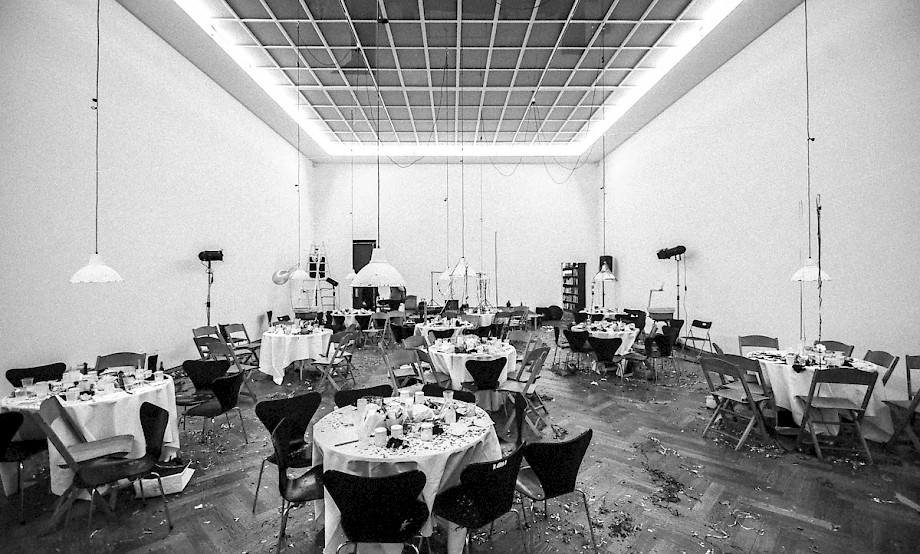 About

07 Nov Bruckner/Langschied/Lelonek Lago Mio cancelled (Covid-19)
07 Nov Talk MASI/LAC cancelled (Covid-19)
28 Nov Camp Solong Retrospective City SALTS, Birsfelden

Benedikt Wyss (*1984) is based in Basel, Switzerland. In order to investigate new forms of encounter with a diverse audience, Wyss initiates happenings in unexpected and ever-changing environments. Since the beginning of 2020, Benedikt Wyss is curating SALTS alongside Samuel Leuenberger, with whom he is associated with several joint projects. Wyss founded the Kunstverein Deli Projects, the art race Draisine Derby, the Swiss branch of the Social Muscle Club, the Explorers Film Club for artistic research on urban transformation, or Lago Mio, an artist residency in Lugano, Switzerland. He recently developed the AR video app Primo Print in motion to digitally extend printed art publications and Kokon, a digital conference on co-creation in the arts. Benedikt Wyss collaborated with Espacio Odéon Bogotá, Belluard Festival Fribourg, Festspiele Zürich, fructa München, Kunsthalle Basel, Museum Tinguely, Schauspielhaus Zürich, Südpol Luzern a.o.
CV
Portfolio PDF June 2020
2020– City & Country SALTS Birsferlden-Bennwil: co-curator
2018– Lago Mio Lugano residency: co-founder, curator
2016– Draisine Derby founder, curator
2016– Stadt.Geschichte.Basel foundation board
2013–2020 Social Muscle Club CH founder, curator
Shows 2018-20 selection
2020 Inauguration Country SALTS, Bennwil
2020 m2act/Kokon conference Südpol Luzern
2020 Puck Verkade Elysia Club
2020 Game Of Goose City SALTS
2020 KOKON online (Festspiele Zürich)
2020 Social Muscle Club online
2020 Anadu, Armstrong, Madison Lago Mio Lugano
2020 Juice & Rispetta LIA Bogotá/Colombia
2020 Draisine 4 Dreispitz Münchenstein/Basel
2020 Social Muscle Club Zürcher Theaterspektakel
2020 Artemis Fontana Grand Café Basel
2019 On Fire – Vulnerable Footage SALTS Birsfelden
2019 Anadu, Armstrong, Madison Lago Mio Lugano
2019 Juice & Rispetta Salón Nacional/LIA Bogotá
2019 Draisine Derby 4 Dreispitz Basel/Münchenstein
2019 Social Muscle Club Zürcher Theater Spektakel
2019 Social Muscle Club Belluard Festival Fribourg
2019 Johannes Willi solo Lago Mio Lugano
2019 Daniel Karrer solo fructa München
2018 Juice & Rispetta Espacio Odéon Bogotá
2018 Social Muscle Club Schauspielhaus Zürich
2018 Water Yump Museum Tinguely Basel
2018 Ayahuasca La Vista Kunsthalle Basel
2018 68–88–18. Freiraum in Basel Clarahuus
Acknowledgements/Grants
Abteilung Kultur Basel-Stadt: Artemis Fontana 2019, Taumel 2017, Umwelt Mode 2017, Haus#99 2016
Christoph Merian Stiftung: Explorers Film Club 2019, Artemis Fontana 2019, On Fire 2019, Water Yump 2018, Ayahuasca 2018, 68–88–18 2018, Feldexperimente 2017, Taumel 2017, Umwelt Mode 2017, SMC 2016/17, Draisine Derby 2017-20, Creeper 2016, Haus#99 2016, MOBR 2015
Città di Lugano: Lago Mio Lugano 2019, 2020
Dr. Georg und Josi Guggenheim Stiftung: Explorers Film Club 2020, Villa Incognito 2015
Ernst Göhner Stiftung: On Fire 2019, 68–88–18 2017, SMC 2014/15/16/17, Copa>Demo>Video>Stream 2014
Ernst und Olga Gubler-Hablützel Stiftung: Explorers Film Club 2020, Artemis Fontana 2019, Water Yump 2018, Ayahuasca 2018, Taumel 2017
Fachausschuss Theater und Tanz BS/BL: SMC 2014/15
GGG: Water Yump 2018, Copa>Demo> 2014, First Love Expo 2013
Kulturelles BL: SALTS 2020-24
Lucius und Annemarie Burckhardt Stiftung: 68–88–18 2017
L. + Th. La Roche Stiftung: On Fire 2019
Migros Engagement // Kulturprozent: Lago Mio Lugano 2020 // Kokon 2 2020, On Fire 2019
Oertli Stiftung: Villa Incognito 2015
Pro Helvetia: Playa Del Musculo Social 2019, On Fire 2019, Space Agency 2018, Ayahuasca 2018, SMC South Africa 2016
Scheidegger-Thommen Stiftung: 68–88–18 2017
Stiftung Edith Maryon: Haus#99 2016, SMC 2014/15
Stiftung Wolf: 68–88–18 2017, Draisinenrennen 2016
Sulger-Stiftung: 68–88–18 2017
Stanley Thomas Johnson Foundation: On Fire 2019
Südkulturfonds: On Fire 2019
Swisslos BL: Draisine 2020 (Publication), Explorers Film Club 2020, On Fire 2019, 68–88–18 2017, Draisinenrennen 2016
Swisslos-Fonds BS: On Fire 2019, Water Yump 2018, 68–88–18 2017, SMC 2016/17, Draisine 2016, Copa>Demo>Video>Stream 2014
Zürich Kanton: Social Muscle Club Schauspielhaus Zürich 2018