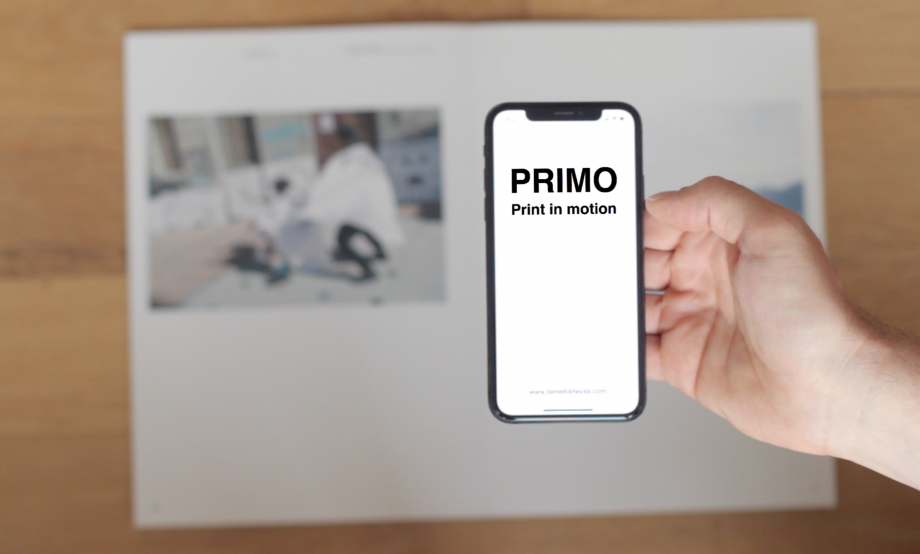 App
PRIMO Print in motion sets your images in motion.
How to extend your printed publication? How to deepen your reading experience? We use AR technology to bring still images to life.
/
PRIMO Print in motion setzt Ihre Bilder in Bewegung.
Wie erweitern Sie gedruckte Publikationen? Wie vertiefen Sie Ihre Leseerfahrung? Wir verwenden AR-Technologie, um Standbilder zum Leben zu erwecken.
For information and prices please contact us via mail.
Help page: benediktwyss.com/project/primohelp/
Hier kannst du die App downloaden:
Publications using PRIMO:
Felix-Große Lohmann Retrospective catalogue Husslehof, 2022
Kleon Medugorac Textiler Garten Museum für Gestaltung, 2022
Büro Berrel Gschwind Rotary Club Basel Jahresprogramm, 2022
Schürch und Koellreuter Kulturstadtplan Schnitzelbank-Comité, 2021
Dorian Sari Post-Truth Kunstmuseum Basel Gegenwart, 2021
Wild Thing Museum für Gestaltung Zürich 2020
Dorian Sari La Parade de l'aveuglement, CCS Paris 2020
Publications of SALTS, Birsfelden/Bennwil 2020
Publication Institute Fashion Design HGK FHNW, Basel 2020
Publication Draisine, Christoph Merian Verlag Basel 2020
Anadu Armstrong Madison Willi Lago Mio Ed. Lugano 2019
PRIMO logo: PDF